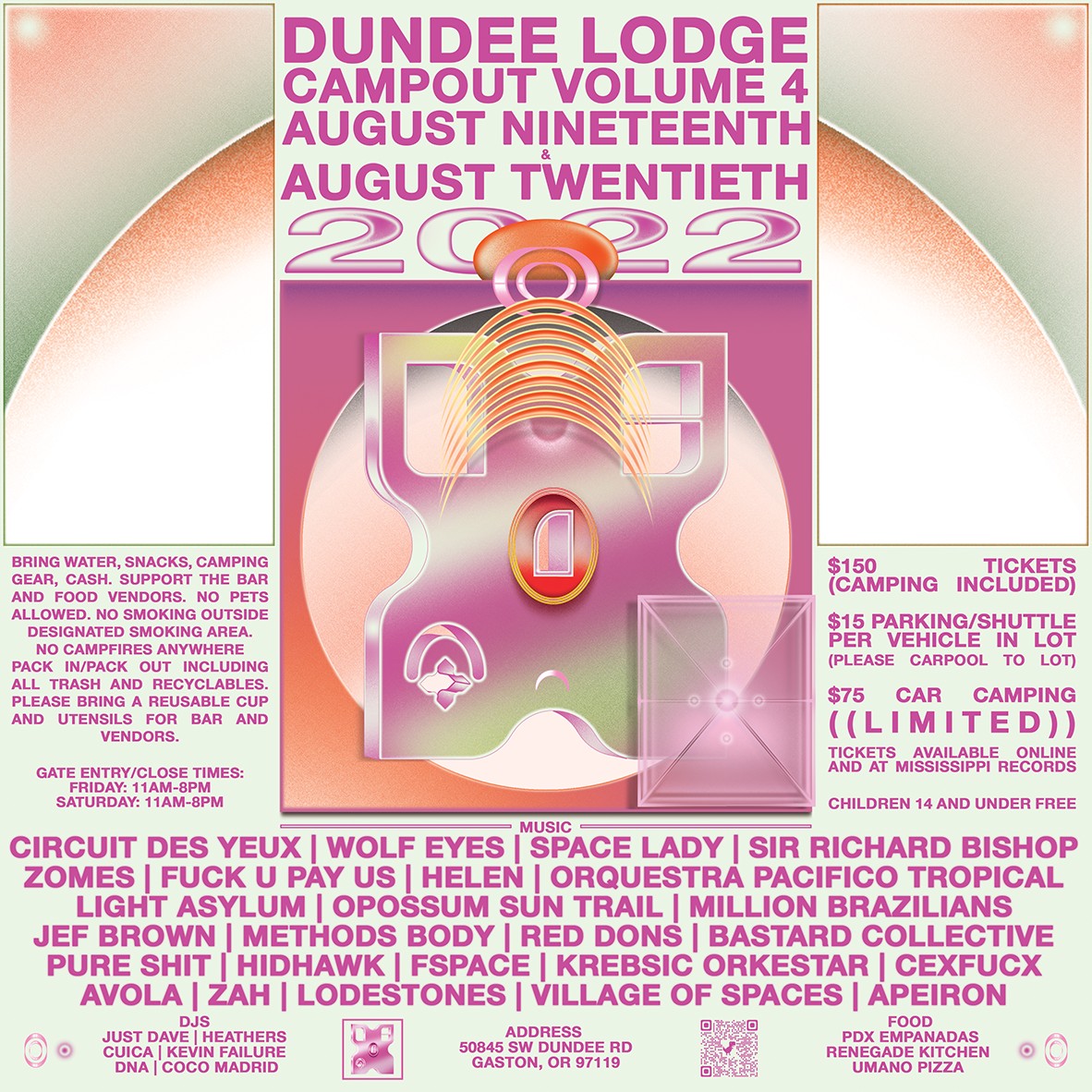 DUNDEE LODGE CAMPOUT 2022
Fri, Aug 19 at 12pm (Pacific)
ALL AGES
ADA ACCESSIBLE
KID FRIENDLY
CAMPING
SWIMMING
FOOD CARTS
VENDORS
LIVE MUSIC
PERFORMANCE ART
ART INSTALLATIONS
GENERAL ADMISSION - camping included PARKING PASS SOLD SEPARATELY
more info
Camping and a shuttle from the parking lot is included in cost of General Admission. You must purchase a parking pass for each vehicle.
PARKING PASS OPTION 1 - weekend parking pass and shuttle to campground (5 minute ride)
more info
Your parking pass is good for parking in the parking lot on Patton Valley Road and a free shuttle to the Lodge. Please go to the lodge first to check in, drop off your passengers and gear, then park and take the shuttle. Parking is $15 per vehicle.
PARKING PASS OPTION 2 - vehicle camping pass - limited
more info
Car camping passes are good for bringing your vehicle to the lodge and parking in the designated car camping area all weekend.
https://www.dundeelodgecampout.com/
CIRCUIT DES YEUX
WOLF EYES
SIR RICHARD BISHOP
SPACE LADY
ZOMES
HELEN
FUCK U PAY US
LIGHT ASYLUM
ORQUESTRA PACIFICO TROPICAL
OPPOSSUM SUN TRAIL
MILLION BRAZILIANS
JEF BROWN
METHODS BODY
PURE SHIT
HIDHAWK
F SPACE
ZAH
VILLAGE OF SPACES
LODESTONES
CEXFUCX
AVOLA
APEIRON